CLC Tas Conference 2013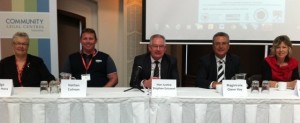 The Community Legal Centres Tasmania Conference Black, White or Grey? The Role of Law in our Community was held on 14-15 November 2013 at the Bahai Centre in Hobart. The Conference was opened by the Attorney-General Brian Wightman MP and included speeches from David Manne, the Executive Director of the Refugee and Immigration Legal Centre and retired Californian judge Peggy Hora who is widely regarded as a pioneer of the therapeutic justice movement. Other speakers included Magistrate Glenn Hay who provided an insight into Tasmania's Court Mandated Drug Diversion Program and Robin Banks the Anti-Discrimination Commissioner who spoke about the changing face of anti-discrimination law. The Conference concluded with a panel discussion led by Justice Stephen Estcourt and included former prisoner Nathan Coleman and Vanessa Goodwin MLC.
Please see the attached conference brochure for more information about the conference.

CLC Tas is intending to run its next conference in 2015.
A program of continuing legal education opportunities are planned for 2014 and community organisations, members and lawyers will be invited.